Gifts for women are easy. Whether homemade or bought, I find it way easier to find cute and suitable gifts for the girls.
Men are not so easy, especially when it comes to handmade. They aren't as sentimental, don't often go in for the 'handmade' look, want to seem cool or professional, and 'cute' isn't probably in their valued gift vocabulary.
I think sometimes gift giving from women to men ends up being far more fun for the woman than for the man. I can find heaps of things I think would be cool to give my husband, but I know I'd definitely be more excited about it than him.
For gift giving to men there are a few things to think about - their interests - i.e. sport, beer...umm, meat?... their profession and work place... their level of metro-ness....
Men that fall into specific categories can be easier. Like if my husband was more metro, I'd make him some manly skin care. But unfortunately, rarely do men actually fit a convenient stereotype.
My husband is difficult when it comes to finding creative homemade gifts, ironically because he has simple tastes. He doesn't really drink alcohol or coffee, he's not into cars, he's not that into gadgets, he isn't into fashion, he doesn't wear ties or cuff links... that rules out most of the typical mens gifts. I'm sure the men and boys in your life have their own list of difficulties too.
What he does like: Sports; board games, card games and crosswords; he's proud of his garden and the things he has built himself; And his children - while the first one is still only on the way, I feel confident in saying he'll like his children once they arrive ;)
Something hints to me that since he's a simple soul, I should quit trying so hard and go with simple gifts. That the creative homemade gift track is more about me, than him.... hmmm.
Still I'm going to press on...;) there's got to be something!
So here's my short round up of non-cutsie, not-too-homemade-looking homemade gift ideas for tricky men.
1. For the Dads: Photos of the kids in simple frames. This should be low on the embarrassment factor even for his desk in the workplace. As far as I know photos of family is acceptable even for manly men. I like the scrabble tile words and the baby holding the letters, subtly appealing to his sentimental side - we know it's in there - without being 'smooshy'.
He doesn't have a workplace/office/desk? Maybe a little mini-album for his wallet - 'scrapbook style', creatived up, but without too many embellishments. You could do it on the computer, and add simple frames and words to the photos and then print them out wallet size, or as a book mark, or maybe as a magnet for the beer fridge... or is that pushing it?
***
2. For any guy: Home sewn caddies and toiletries bags. You could use the same patterns and tutorials for these sorts of things that you see everywhere for women, just in more manly designs. Make it a toiletries pack, shaver bag, first aid kit for the car, mini-tool kit for the car etc.
***
3. For the sporty types: If he has a particular team he loves and you can knit or sew, then maybe beanies, hats or scarves in team colours will work, but that can be a dodgy route unless it made by the kids. I find more often guys who like sports teams want jerseys and things with their favourite players number and things like that, not homemade.
If he's a gym junkie or plays team sports, a sports bag could be homemade if you can sew - somewhere to carry his gear and shoes etc. Make it tough, simple and streamlined. No fussy bits.
Golf club head covers are another idea, and the one pictured above looks professional enough to work. I'm pocketing that idea.
***
4. For the BBQ-er. And what man doesn't consider himself one? These BBQ towels are pretty good. I can just picture how grubby they would be after one single use, though so I'd probably make them in less pretty colours. Think black, grey, maybe red.
If he wears an apron, then one with pockets and hanging bits for the utensils would work, but I don't actually think I've ever seen a man BBQ in an apron. So I'm thinking a hanging caddy that attaches to the BBQ itself and can hold utensils, oil, paper towel, spices etc, freeing up the often limited bench space.
***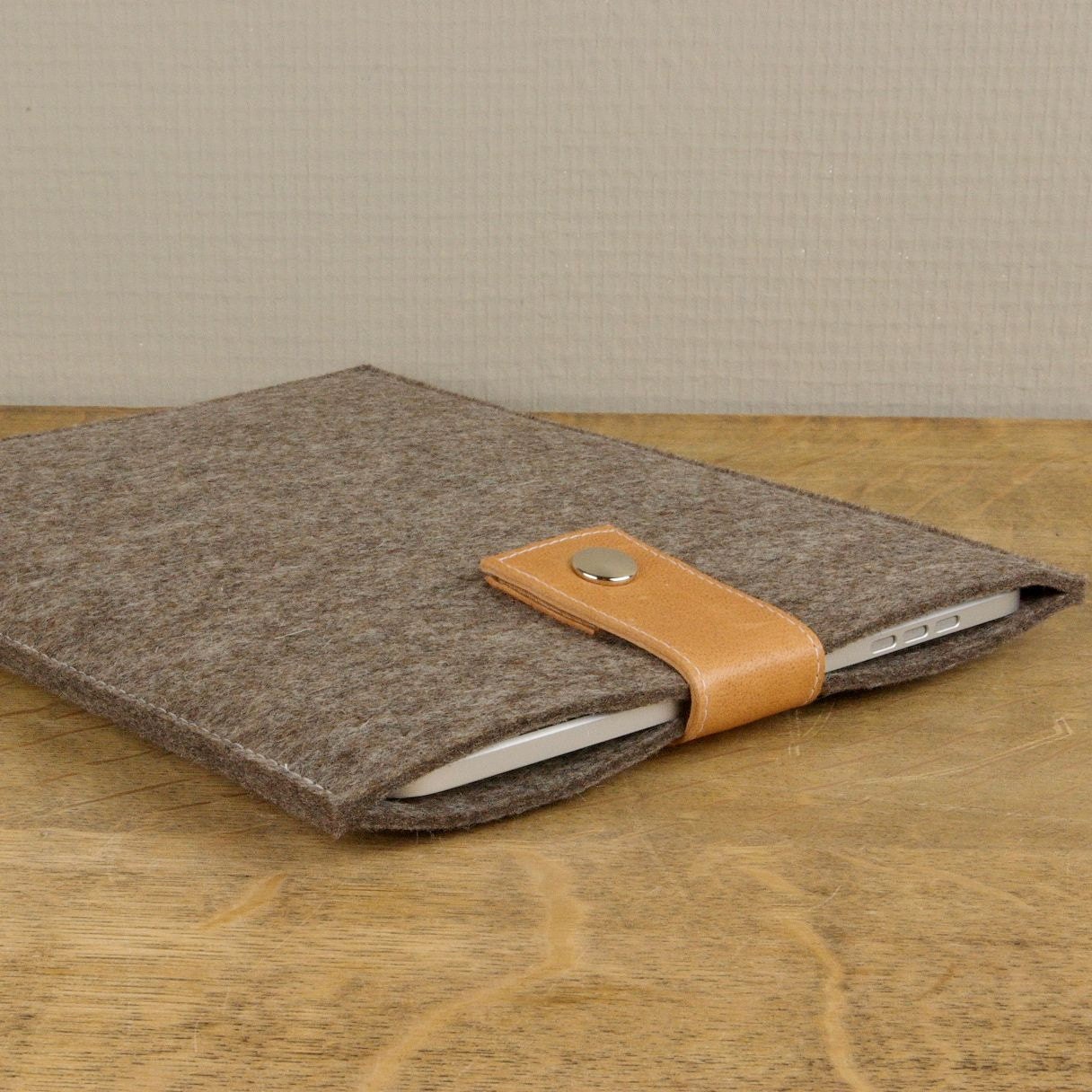 5. For the techy-types. Covers and bags for iPads, phones and laptops can be winners, but it can be hard to find designs that really suit men, and won't receive funny looks from the other guys he works with. Go for denim, cord, leather, canvas etc in manly colours to be safe and keep the design itself simple and fuss free.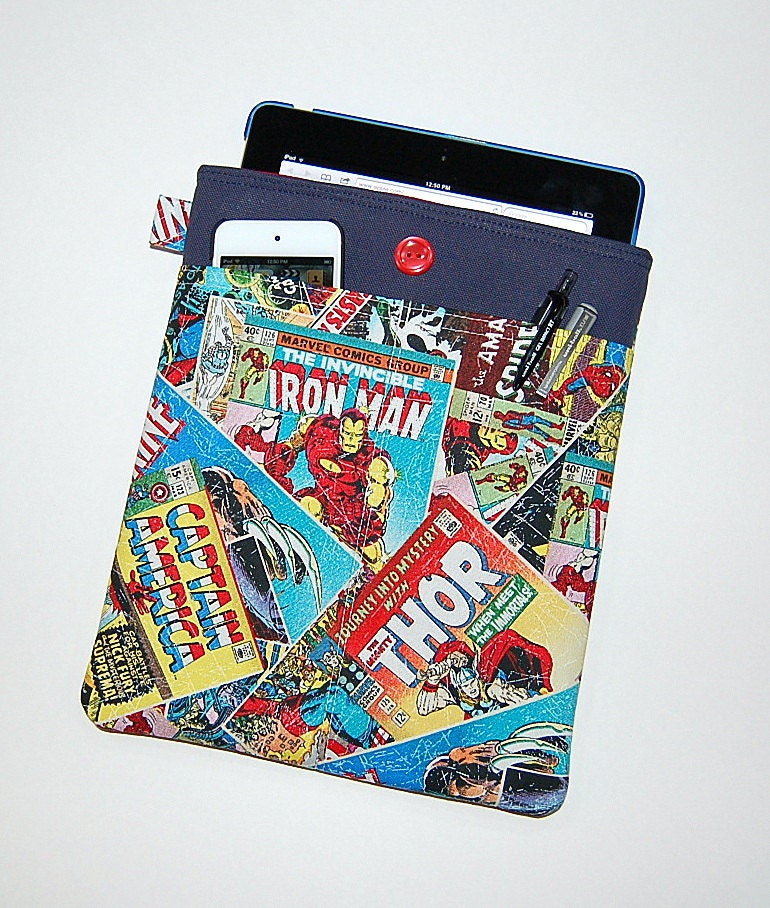 You can be more creative based on his interests, if you know he likes that sort of thing, like this comic book themed iPad cover I saw on etsy.
***
6. For the 'stuff' guy, friend or co-worker. If he does like cool bits and pieces - or you need a small gift for a co-worker or secret santa - then there are plenty of little ideas. Personalise a jar for his loose change, or a container for his keys and wallet. Personalise a coffee mug with ceramic paint pens.
I saw this little gadget for sale on a website of cool things - not homemade, but you might be able to DIY it somehow. It's an octopus shower caddy. I actually think this could be a good gift, but really I still can't separate "I would love that" from "he would love that" sometimes. So maybe this one's just for me or for kids...
***
7. For the 'Acts of Service Love Language' guy. If he is more of a 'do-something-for-me' than a 'give-me-something' kind of guy - in a good way of course - then maybe your home made gift could be in the form of what you do rather than what you make. 'Coupons' are not a new idea, but that's the kind of thing I'm thinking here. Make them useful though, and don't wimp out on what he really would appreciate. If you hate mowing the lawn, but know he would really love a break from that, give him that and tough it out. Plan in advance to have your neighbour/dad/friend help you if you know you'll have trouble getting it started and all that jazz.
Make a day of it - or even a week of it. If it's his birthday, rather than just making a book of coupons that will get chucked in a drawer and forgotten about - conveniently making you look thoughtful without having to follow through - come up with a list of things he'll love and just do them for him. Don't make him redeem breakfast in bed, just surprise him with it. Go out and play tennis/walk around a golf course/insert activity with him if you normally don't find the time. Clean his car for him while he's out. etc etc
***
8.
Gift Wrapping.
Now, if you do have to cave and buy something, then maybe some creative gift wrapping will satisfy the homemade urge. The gift bags above a cute, and might be good for some men. I'd also think of personalised wrapping that means something to the man you're giving it to. For example, for my husband - hope he's not reading this - I'd use the crossword pages from the newspaper in some way to wrap a present because he loves crosswords.
Pugs Not Drugs Aprons
by
five1eleven
Create aprons
with zazzle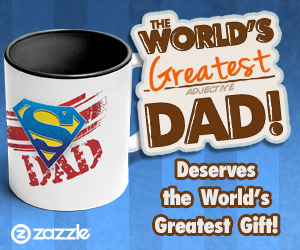 9. Not handy? Don't feel like you'll be able to successfully hand make something yourself - or at least not something that you wouldn't have to blame on the kids.... don't worry, sometimes our best Pinterest inspired ideas just won't happen. But there are other ways to personalise things.
Go to
Zazzle
and either find a creation that suits the man you're buying for, customise someone else's design, or create your own. Since it's all on the computer you can just delete and start again if it doesn't turn out! You can add your own pictures and text to aprons, mugs, phone covers and so much more.
***
The bottom line is, think about his interests and personality;
make him something he would like, not just something you would like to make.


Got any homemade gift ideas for men you're thinking of or have made before? Would love to hear about them or see links to them on your blog!